Assemblywoman Lisa Krasner-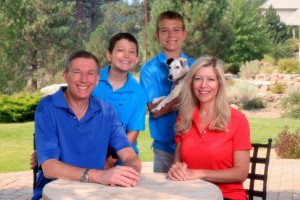 Lisa learned her work ethic from her father who immigrated to the United States, the legal way. He stood in line, filled out the forms, and taught himself how to read, write and speak English, and he worked hard to provide for his family. From her father Lisa learned that she could accomplish anything if she worked hard enough.
Education is important to Lisa. She was the first in her family to attend and graduate from a four-year university and receive a Bachelor's Degree,as well as the first in her family to receive a Doctorate degree. Lisa balanced her studies while working her way through U.C.L.A. and Law School. She has a Bachelor's Degree and Juris Doctor Degree.
Lisa's love for education led her to join the faculty of the University of Phoenix, teaching courses on Political Science, the United States Constitution, NV Constitution, Advocacy & Mediation, State & Local Political Processes, Critical Thinking, and Business Law.  She currently teaches U.S. Constitution and NV Constitution courses in the Political Science Department at Truckee Meadows Community College.
Lisa believes in creating strong communities. Lisa served as a Commissioner on the State of Nevada Commission On Aging and Disability for three years. She looks forward to working on legislation that will help our community's senior citizens with the issues that are important to them. She is also a former member of the Nevada Commission on Aging  Subcommittee Concerning Legislative Issues.
Lisa also served as a Commissioner for the City of Reno's Recreation and Parks Commission for seven years, where she advocated for a family-friendly environment in the City of Reno.
Through her love of the arts, Lisa served on the Reno Philharmonic Association Board of Trustees and as the President of the Reno Philharmonic Guild.
She is an active participant in her children's public schools. Lisa volunteers in the classroom, teaching Junior Achievement. Lisa was formerly on the Board of Directors of of the Hunsberger Elementary School PTA. She is a member of the Galena High School PTO Boosters.
She is a member of the Alliance with Washoe County Medical Society, and former First Vice President of the Board. She is a member of the Washoe Republican Central Committee, and a member of the Incline Village Republican Women's Club. She is an Associate member of the Mt. Rose Republican Women, the Republican Women of Reno, the Washoe Republican Women, and the Republican Men's Club of Northern Nevada. Lisa is married to Charles Krasner, M.D. and has two children.